Pay Japanese National Tax by Credit Card in Tax return
Did you finish your tax return? It's May so you should finish it.
These days Japanese National Tax can be paid by credit card. Actually, the web-site of Japanese Tax office has bad reputation for users even he/she is native Japanese.
This time, I introduce how to pay Japanese National Tax by card. I'll be happy if it helps you. Person who has salary from more than one company should fill tax return. 
Flow Chart to pay tax by Card
Access Web-Site
Go to the Web-Site to pay Japanese National Tax by Card.
国税クレジットカードお支払サイト
「国税クレジットカードお支払サイト」とは、国税庁及びトヨタファイナンス株式会社間における契約の下で運用する国税のクレジットカードによる納付を行うための専用サイト...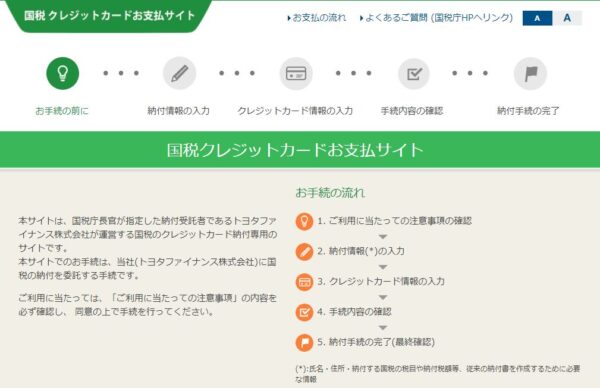 Notes
See the below notes as the brief summary.
You can't get a receipt-but email. the details will be explained later)
Relationship between Delinquent tax and Withdraw Date
You can't stop Payment procedure
It take Three weeks by apply for Tax Certificate
Commission Paid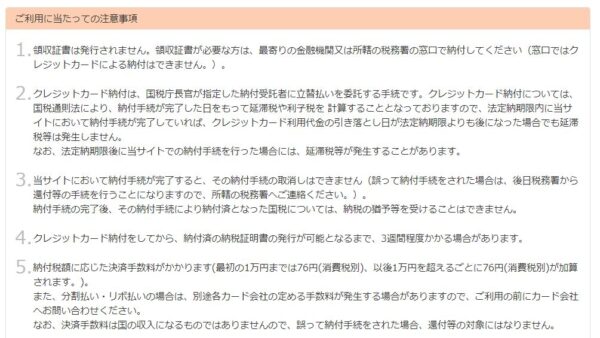 Calculate Commission paid
You can calculate commission paid before completing the application. If you use it, see the middle of the page. There is a calculation box –  see below blue marked box.
for example, put 1,000,000 in the box, the commission paid is JPY8,208.

Check the BOX of Notes
After putting tax amount to pay, go to the bottom of the page, and check the box.

available Credit Cards 
There shows credit cards you can use. 
Please click -agree-

Flow of putting information of Payment
Enter your information
At the next page, you need to put User information.
As notes
You don't have to put reference number
Need to check mailing address. It's the tax office you send an application.
You can search tax office there. Partial search is available, but in Japanese.
In tax return, please select「申告所得税及復興特別所得税」.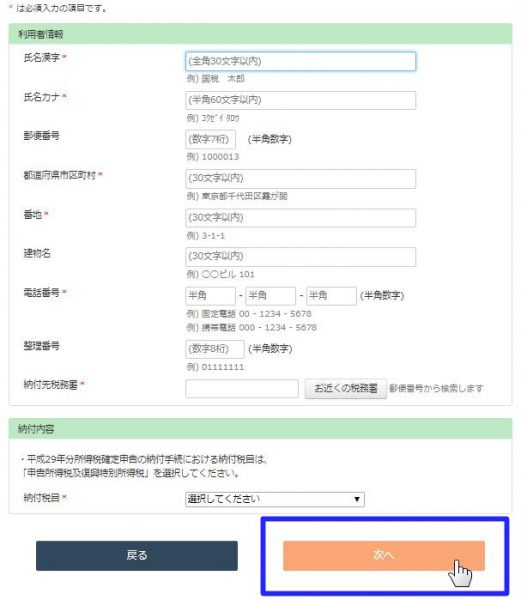 After selecting「申告所得税及復興特別所得税」
Other boxes appear after selecting「申告所得税及復興特別所得税」.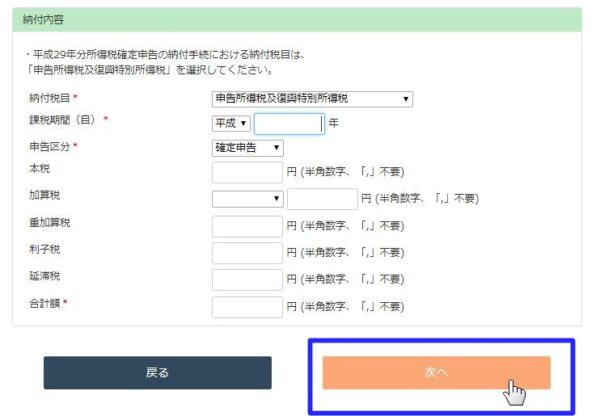 Enter required items, and put "next" botton.
Enter your Credit Card Information
At the next page, you can check information you put so far. Please re-confirm it.
At the bottom part of the page, there is boxes for entering the information on credit card. Fill all.
In meantime, you can receive confirmation email if you enter your email. If you don't need a receipt but a memo for yourself, it is enough.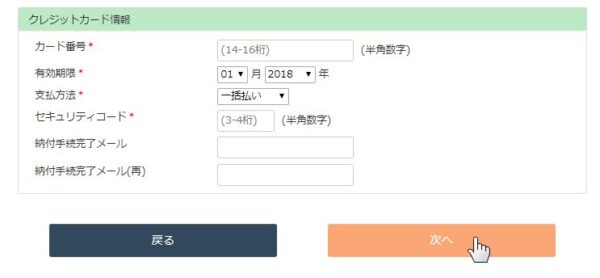 After finishing, please press "next".
Confirma what you put
You can confirm the information at the next page. After confirmation, press payment(納付).

The screen will be switched, so press Yes(はい).

Print the Page
You can print the details at the next page.
As a note, it is recommended to print or storage the page because this page never appears again. 

Confirmation Email
The content of confirmation email is as follows. Though it is in Japanese. The ammout is on the page. It is not a receipt but enough for check whether the amount is right.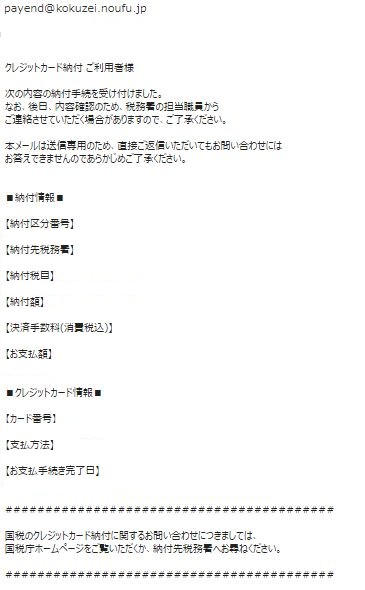 You can use Card from 2016
Though you have to pay commission paid, paying by card is one of the easy ways to pay tax. If you're interested in, please use it.
【Editor's Note】
If you need some articles about Japan, kindly let me know. I'll check and make a page.
【First Experience】
Putting Blog in English
【With my Child】
Suddenly, he started tag at bath. He slipped and began to cry. I was released to know he was fine.